WMPTSE - How to add support for a tag format
From Hydrogenaudio Knowledgebase
Software Needed
[
edit
]
Installation
[
edit
]
Note:
This guide assumes that you have already downloaded and installed Windows Media Player and WMPTSE.
This guide pictures are taken from WMP v9.0 but are valid for newer version.
In this guide, we will be adding an 'Sting tag format' tagging to our MediaLibrary .pnge files (supposedly png file extension modified).
Configuration
[
edit
]
Launch Windows Media Player.
Click Add Support button, the "Add Tag support" propery page is displayed :
Push the button Add a tagtype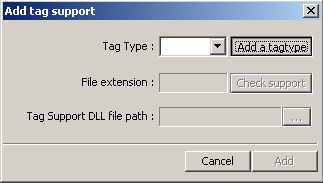 In the text field, type the tag type name (here, Sting)
Push the OK button to confirm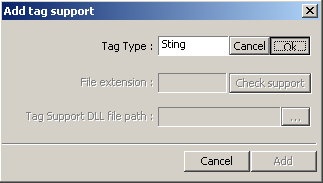 Now, our new 'Sting' format is showed on the tag type list
We just have to select it
And continue with filetype support addition
(see - WMPTSE - How to add support for a filetype except the tag type is 'Sting' not 'APE')
Addtional Reading
[
edit
]